Intro - What are you about?
Your site visitors want an answer to this question and will naturally go to your About page to get some answers. On most websites, the About pages tends to get visited a lot. Check your analytics to see what percentage of your visitors check out your About page.
This page is an important step on the road to purchase. Visitors will check you out and if they choose to look at your About page they're probably quite interested in doing business with you.
So your about page need to accomplish several objectives:
Represent your brand clearly - show your values and your purpose
Give a strong first impression of your business and/or your products
Demonstrate the affinity between the customer and your business.
Establish trust and credibility (EAT). About pages are mentioned in Google's human raters' guideline as a means of gauging the EAT of a site so it's likely that it's used as a ranking signal for the website. If you're unsure about EAT see How to write better content for your website.
In summary, your About page is an opportunity to make a good impression and then to engage with potential customers, however, it's common to find weak and inadequate about pages.
What to include
Firstly, name the page About or About us, not something more obscure like Ethos or Values. People expect an About page.
Secondly, say what you do and how you do it. What problems do you solve for people? This could be done using text and images or a short video introduction may be more appropriate for your situation. In general it better to focus on the needs of the customer rather than talking too much about yourself initially.
After you have established how you help people, you can move on to talk about
the history of your business
the key people in your business, including profiles and photos if possible
links to any awards or external sources than may be relevant
a couple of testimonials.
You should write conversationally, avoiding jargon, but in a way that shows you understand your customers, speak their language and solve their problems.
Towards the bottom of the page you can add
Social media profiles
newsletter subscription if you have one
a call to action - whatever is appropriate - contact page, blog, shop etc.
make sure contact details are easily available
Examples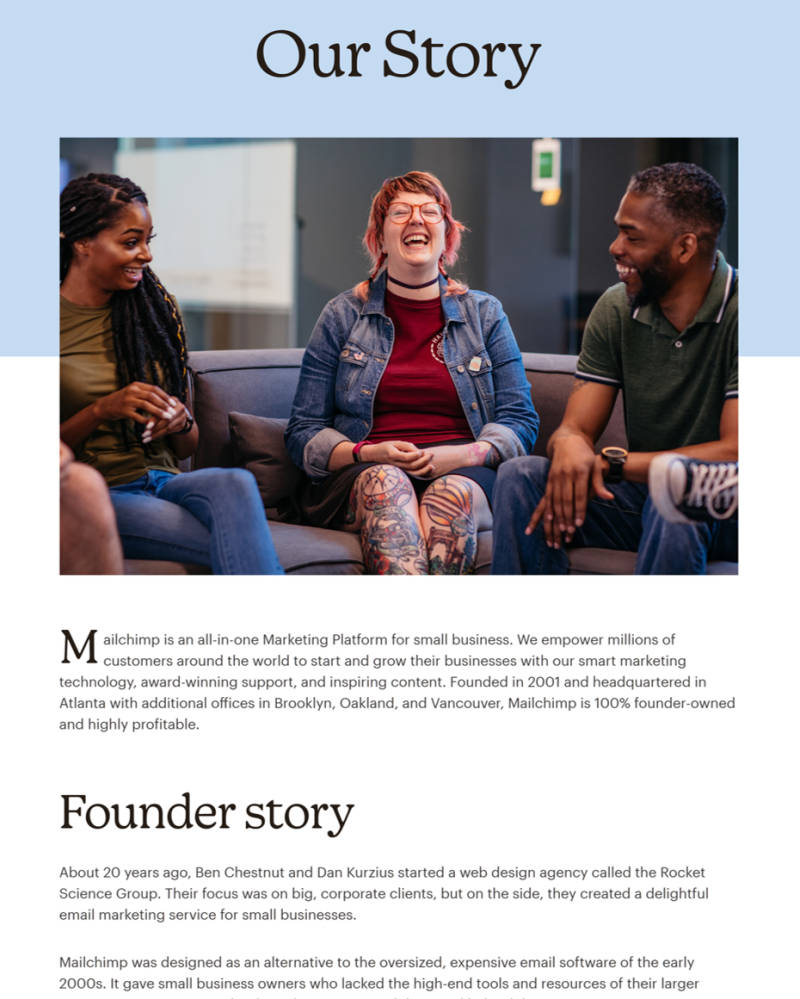 Mailchimp has an excellent About page. It's makes clear what Mailchimp do and shows strong branding. There's a good deal of history but also plenty about culture and values. There are additional links at the bottom of the page and contact details in the footer below.
I also like the MacMillan about page which is simple and clear. I says exactly what they do and provides a great video that expands on that. There are links on the page for more detail, depending on your needs and there's a clear Contact section. Social media profiles are available in a side bar. This page doesn't have a lot of content but signposts other pages so the visitor can easily find what they want.
Conclusion
Updating your about page is a relatively low effort task, especially when compared to other marketing activities. The value that you gain from a great About page is well worth the effort
Further reading